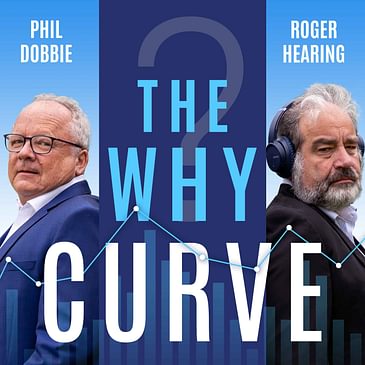 The Why? Curve
Each week Phil Dobbie and Roger Hearing get to grips with one issue that impacts our lives. It could be economic, social, technological or geopolitical. Whatever the subject, they'll talk to the experts who can give help explain what's really going on. And Phil and Roger back it up with their own research and opinions. It's half an hour to get across one of the key issues of the time, and they promise, it'll never be boring.
Latest Episodes
WHAT THE PEOPLE SAY
Reviews
We're trilled that some people are enjoying The Why Curve and we'd love your feedback. Leave a review on your favourite podcast app.
All Reviews
Apple Podcasts
Getting excited for Thursdays!
Brilliant podcasts, good mix of well-informed, sometimes edgy guests. Great length and balanced in their delivery. Very much look forward to Thursday arriving!
Apple Podcasts
Punchy, well-informed, user-friendly analysis and discussion
I've enjoyed the first few editions of the Why? Curve. Phil and Roger are an entertaining duo, have a good nose for what's topical, pack a lot of information and discussion into the half-hour, and have so far chosen interesting and articulate guests, especially Dominic Nicholls on defence.
SIGN UP FOR UPDATES
Subscribe to the show, stay up to date
Subscribe via your favorite platform today - you'll get notified for all new episodes!